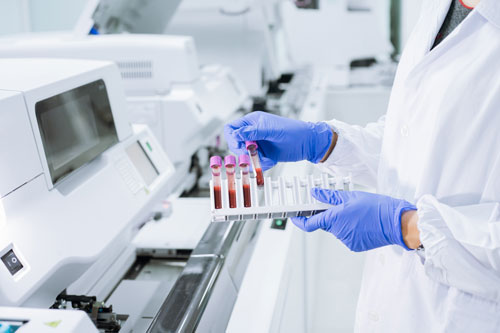 Innovative, efficient, and superior lab-developed tests (LDTs) are key for diagnostic laboratories to differentiate their portfolios. PanoHealth can help you expand your diagnostic menu with our LDT validation and assay development services. Our large R&D team has significant experience in rapidly developing and evaluating assays that are used for research and clinical use.
PanoHealth can rapidly develop an LDT-ready assay from scratch or help you validate a pre-established LDT at your high-complexity laboratory. Our comprehensive service is tailored to your laboratory needs.
Validation Requirements: Our team will determine the test validation requirements and the best approach for you (e.g., platform, sample type, throughput, etc.).
Development of Validation Protocol: The validation protocol is established according to CLSI regulatory guidelines, or a custom protocol can be determined in coordination with your medical director.
Assay Development: Preliminary assay development will be performed at PanoHealth leveraging our qPCR, recombinant protein, antibody production, enzyme-linked immunosorbent assay (ELISA), lateral flow assay (LFA), and other immunoassay technologies.
On-Site LDT Establishment: We will travel to your laboratory to provide on-site clinical validation testing according to regulatory requirements.
Clinical Testing: With the LDT established, your CLIA laboratory can process clinical samples.
Our in-house LDT-ready menu contains diverse, pre-validated qPCR and immunoassay assays that can be run on a variety of commercially-available equipment and platforms.
Highlighting COVID-19 Specific LDT-ready Assays!
COVID-19 1-Step High Throughput PCR Assay: utilizes the RT-PCR method for the in vitro detection of SARS-CoV-2 nucleic acid in nasopharyngeal swab samples. The unique 1-Step Nucleic Acid Stabilization Buffer preps crude swabs for use directly in the PCR reaction, without laborious RNA extraction. The assay can detect as few as 4 copies/µL of SARS-CoV-2 virus. Only needing the green channel, this PCR kit can be used with a wide range of PCR instruments.
COVID-19 Total Neutralizing Antibody (NAb) Assay: utilizes an ELISA-based method for the detection of total binding antibodies that correlate to neutralization to SARS-CoV-2 in human serum through the binding affinity of the SARS-CoV-2 Spike (S1 RBD) protein and the Angiotensin I Converting Enzyme 2 (ACE2) receptor complex.
Creatinine Assay: is a 30 minute chemical analysis designed to measure Creatinine in urine as an indicator of kidney dysfunction, or associated with other conditions that result in decreased renal blood flow including diabetes and cardiovascular disease.
Please contact us to discuss your assay needs for your laboratory now!
GET STARTED WITH PANOHEALTH